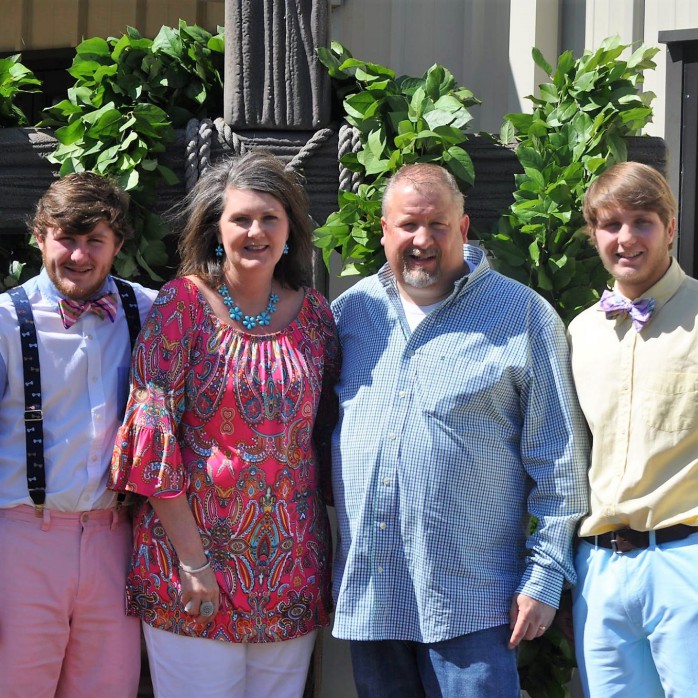 Rick has served in Student Ministry, Missions Ministry and has been involved in many mission efforts throughout the United Stated and the world over the past 19+ years. Planting The Vine in 2007 was a huge leap of faith for the Harris'. God has proven faithful at every turn and has blessed The Vine with loving and caring people. Rick's desire is to pastor a church that is "REAL"; Relevant, Exciting, Authentic, Life-Changing!
Tucker Ellis
Worship Pastor
Tucker Ellis is married to Marissa. They have four children, Aaron, Audrey, Seth, and Silas. Tucker's passion is to lead people in worship through music and scripture.
Open Position!
Student Pastor
Pat Ellis
Hospitality Director
Pat and her husband Kyle have been married for 28 years. They teach in the Toddler Ministry as well as serve on the staff in the area of hospitality. Pat's prayer is that every person experience a warm welcome and that everyone is nourished by food for both their body and their soul.
Bud Pearce is married to Kelly and has two children, Abel and Nolan. Bud's vision for the Men of The Vine is to provide encouragement to read God's Word daily, teaching their children about Jesus and ensuring the men have open communication and prayer time with their spouses.
Courtney Stoops
Women's Director
Courtney Stoops is married to Deryk and they have two children, Abbigail and Braxton. She desires to walk alongside the women of The Vine as they walk closer to Jesus together. She is passionate about helping women find their identity and worth in Christ and is excited to serve in this community.
Marissa Ellis
Children's Director
Kaitlin Rainey
Preschool Director
Kaitlin has been married to her husband Dustin for 7 years and they have a 5 year old daughter, Sarah Ann, and a 3 year old son, Weston. Kaitlin took on this position as Preschool Director in order to ensure that the preschoolers of The Vine would be greatly loved, ministered to, and prayed over each week they entered into the building. Her desire is for parents to feel at ease and comfortable leaving their precious blessings with our teachers and is excited about the growth that is taking place within this ministry. These "Shoots" of The Vine are guaranteed to be loved and well-taken care of, and this ministry is just the beginning of a great work to take place in each child at The Vine!
Johnna Jackson
Nursery Director
Johnna Jackson is married to Jarrod and they have one daughter, Hadlee. Johnna seeks to serve God and the families of The Vine by providing a clean, safe and loving environment for our babies from birth - 2 years old.